You are the Church
1. Jesus does not dwell in Building Churches
Acts 7:48-50 - However, the Most High does not dwell in temples made with hands, as the prophet says: Heaven is My throne, And earth is My footstool. What house will you build for Me? says the Lord, Or what is the place of My rest? Has My hand not made all these things?
Acts 17:24 - God, who made the world and everything in it, since He is Lord of heaven and earth, does not dwell in temples made with hands.
Revelation 21:22 - But I saw no temple in it, for the Lord God Almighty and the Lamb are its temple.
John 2:21 - But He was speaking of the temple of His body.
2. You are the Temple of Jesus
1 Corinthians 3:16 - Do you not know that you are the temple of God and that the Spirit of God dwells in you?
1 Corinthians 6:19 - Or do you not know that your body is the temple of the Holy Spirit who is in you, whom you have from God, and you are not your own?
2 Corinthians 6:16 - And what agreement has the temple of God with idols? For you are the temple of the living God. As God has said: I will dwell in them And walk among them. I will be their God, And they shall be My people.
John 14:16-17 - And I will pray the Father, and He will give you another Helper, that He may abide with you forever, the Spirit of truth, whom the world cannot receive, because it neither sees Him nor knows Him; but you know Him, for He dwells with you and will be in you.
John 14:20 - At that day you will know that I am in My Father, and you in Me, and I in you.
John 14:23 - Jesus answered and said to him, If anyone loves Me, he will keep My word; and My Father will love him, and We will come to him and make Our home with him.
Luke 17:21 - nor will they say, See here! or See there! For indeed, the kingdom of God is within you.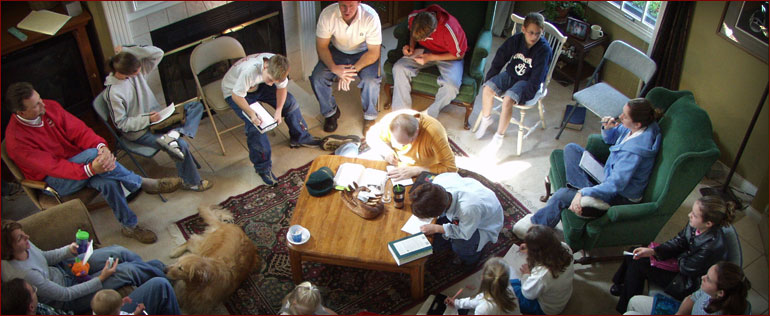 3. God is a Spirit, Worship Him in Spirit and Truth
John 4:23 - But the hour is coming, and now is, when the True Worshipers will worship the Father in spirit and truth; for the Father is seeking such to worship Him.
John 4:24 - God is Spirit, and those who worship Him must worship in spirit and truth.
Matthew 18:20 - For where two or three are gathered together in My name, I am there in the midst of them.
Philippians 3:3 - For we are the circumcision, who worship God in the Spirit, rejoice in Christ Jesus, and have no confidence in the flesh.
4. Bible mentions House Churches Alone; No Trace of Mega Churches
Romans 16:5 - Likewise greet the church that is in their house. Greet my beloved Epaenetus, who is the firstfruits of Achaia to Christ.
1 Corinthians 16:19 - The churches of Asia greet you. Aquila and Priscilla greet you heartily in the Lord, with the church that is in their house.
Colossians 4:15 - Greet the brethren who are in Laodicea, and Nymphas and the church that is in his house.
Philemon 1:2 - To the beloved Apphia, Archippus our fellow soldier, and to the church in your house.
Acts 2:2 - And suddenly there came a sound from heaven, as of a rushing mighty wind, and it filled the whole house where they were sitting.
Acts 16:32 - Then they spoke the word of the Lord to him and to all who were in his house.
Acts 20:20 - how I kept back nothing that was helpful, but proclaimed it to you, and taught you publicly and from house to house.
5. Jesus lives within you
Matthew 10:20 - For it is not you who speak, but the Spirit of your Father who speaks in you.
John 15:4 - Abide in Me, and I in you. As the branch cannot bear fruit of itself, unless it abides in the vine, neither can you, unless you abide in Me.
Romans 8:9 - But you are not in the flesh but in the Spirit, if indeed the Spirit of God dwells in you. Now if anyone does not have the Spirit of Christ, he is not His.
Romans 8:10 - And if Christ is in you, the body is dead because of sin, but the Spirit is life because of righteousness.
Romans 8:11 - But if the Spirit of Him who raised Jesus from the dead dwells in you, He who raised Christ from the dead will also give life to your mortal bodies through His Spirit who dwells in you.
1 Corinthians 14:25 - And thus the secrets of his heart are revealed; and so, falling down on his face, he will worship God and report that God is truly among you.
2 Corinthians 13:5 - Examine yourselves as to whether you are in the faith. Test yourselves. Do you not know yourselves, that Jesus Christ is in you? - unless indeed you are disqualified.
Galatians 4:19 - My little children, for whom I labor in birth again until Christ is formed in you.
Ephesians 3:17 - That Christ may dwell in your hearts through faith; that you, being rooted and grounded in love.
Colossians 1:27 - To them God willed to make known what are the riches of the glory of this mystery among the Gentiles: which is Christ in you, the hope of glory.
1 John 4:4 - You are of God, little children, and have overcome them, because He who is in you is greater than he who is in the world.
John 6:56 - He who eats My flesh and drinks My blood abides in Me, and I in him.
2 Timothy 1:14 - That good thing which was committed to you, keep by the Holy Spirit who dwells in us.
1 John 4:12 - No one has seen God at any time. If we love one another, God abides in us, and His love has been perfected in us.
1 John 4:13 - By this we know that we abide in Him, and He in us, because He has given us of His Spirit.
1 John 4:15 - Whoever confesses that Jesus is the Son of God, God abides in him, and he in God.
Repent for sins
Have Faith in Jesus alone
Renounce the False Church System
Be baptized in the name of Jesus, if not baptised already
Start / Attend a House Fellowship
Preach the Gospel
Read Bible & Pray daily
Obey His Commandments
Feed the Poor
Exhibit the Fruits of the Holy Spirit (Galatians 5:22-23)